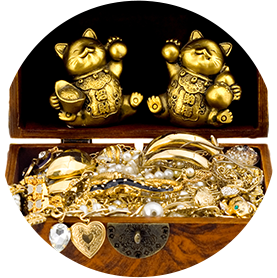 Testing for Purity
Determining the karat weight of your pieces is essential to ensure you are getting the most value. To accomplish this, our appraisers use the touchstone method of purity testing. This method is widely used to precisely determine whether a piece of jewelry is 10kt, 14kt, 18kt, 20kt, or 24kt gold. By choosing this gold appraisal method, our team can accurately determine the weighted value of each piece of your jewelry, ensuring that you are getting the right amount for your items.
Testing Every Gram
When selling jewelry to our shop, no piece is too small for us to test. We accept everything from rings, chains, coins to bracelets, necklaces, and earrings. When weighing your pieces, we use legal scales that are regularly tested and calibrated to ensure complete accuracy. This way, we can determine the exact number of grams of precious metals that you are selling.
Additionally, by working with grams at our reputable gold buyer shop we guarantee that you will get a better deal than if we were to use pennyweight. To learn more about our purity and weight testing, or to have your own items appraised, reach out to our shop.